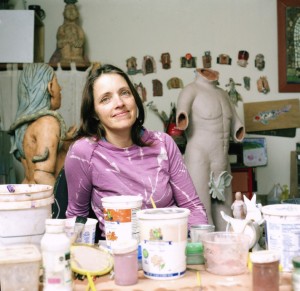 Long ago, clay became my primary medium because it is a material that I never tire from. I am a hand builder using the slow and steady process of coil and slab building.  The large female figures require a clear idea of the form and its position when I begin.  As the sculpture progresses I choose other elements and proportions as needed.  The large head sculptures involve a more intuitive approach. These pieces begin with a face and become more expressive and narrative with the addition of figures, animals and other components that come to mind as I build. For the surface treatment I use a combination of slips, washes and glazes to build up a patina that echoes a well-worn surface.
I work with the human head and female figure as subject matter because it best communicates the themes that I am interested in.  Love and companionship, growth and death, balance and the passage of time are recurring themes in my work.  Like a perfect cup of coffee or tea, I mix these ideas together and add just a bit of humor to taste.
The female figure is in a place of honor as she may represent mother, earth mother, sister or companion.  Some of the heads and figures will have small birds either at rest or at the moment before flight.  These additions give the piece a sense of time standing still. Life is full of these moments whether they are memorable or forgotten.  My hope is that the viewers of my sculpture can reflect on their own personal journeys and moments in time.
Gina Lawson Egan is a ceramic artist living in Ontario, California. She received her BFA from the University of Michigan, followed by an MFA from the Claremont Graduate University studying with Paul Soldner. Her work is in collections around the United States.